New Feature: Notification System!
1688143860000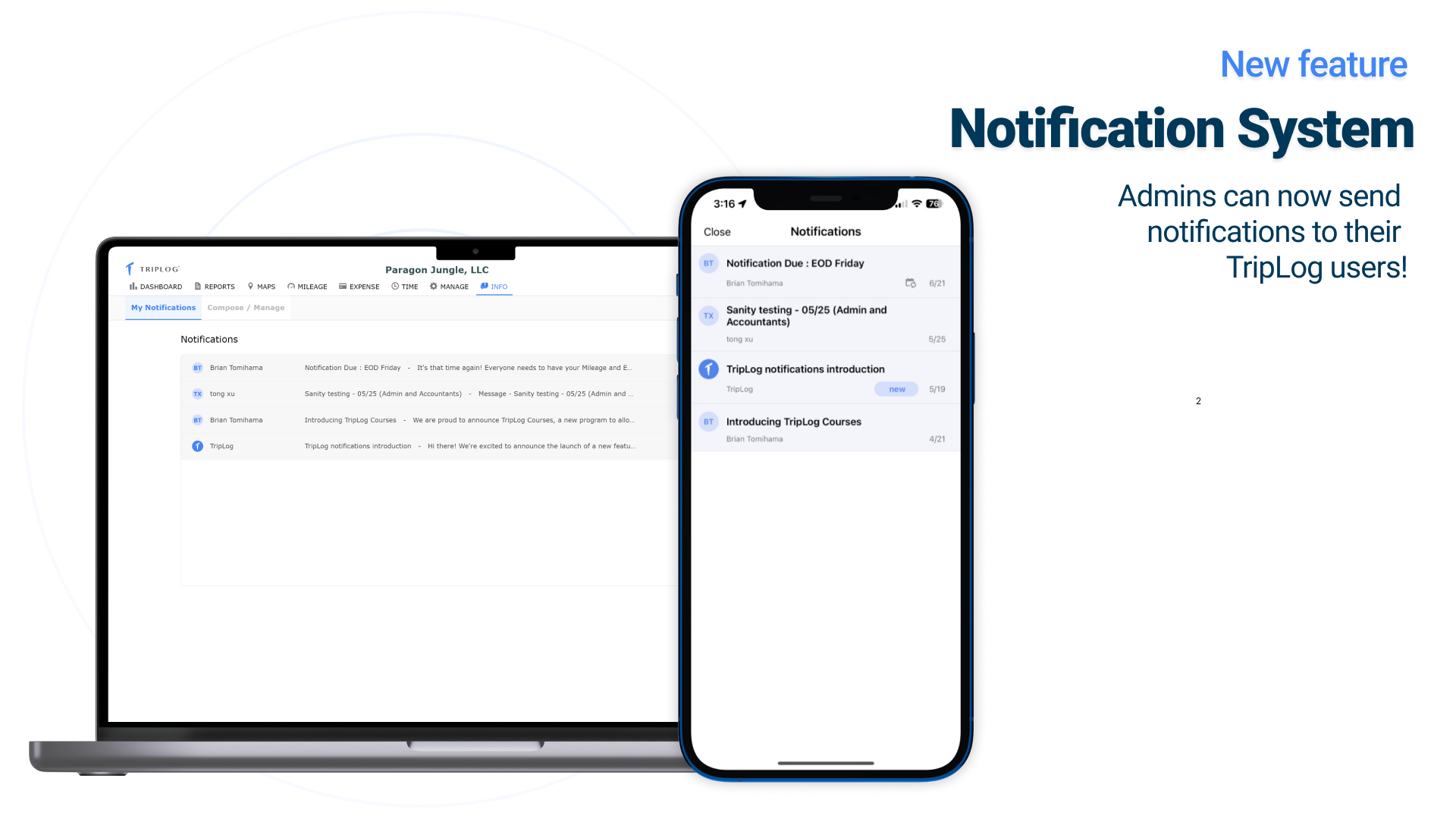 We're thrilled to announce a new feature that brings TripLog's communication capabilities to a new level: notifications!
As a part of our continued efforts to improve your experience with TripLog, we've implemented a feature that allows TripLog admins to send notifications to their teams! Hopefully, this will make coordinating more streamlined and efficient, saving you time and eliminating potential communication roadblocks.
This also allows us at TripLog to keep our valued customers informed about important updates, offers, and features directly within our platform. No more missing out on crucial information, or having to hunt for it on our website or in your email inbox!
Notifications can be viewed both in the TripLog app and on our web dashboard. In the app, drivers will find the notifications near the top of the main menu. On the web, simply hover over the "Info" tab and select "Notifications". From here, you can view notifications that were sent to you, or compose notifications of your own (assuming you have the appropriate system privileges).
TripLog Notifications: Feature-rich, Convenient, and Easy-to-use!
When composing, you're able to send notifications to all of your TripLog users within your organization, specific segments (such as TripLog app users only), or even to specific company-defined departments.
There are additional features that provide you with the flexibility you need, such as setting certain notifications to be recurring, scheduled, or to additionally send an email notification.
We believe our new notification system is a huge step towards making TripLog an even more interconnected and user-friendly experience. As always, if you have any questions about this new feature or need help with anything else, our support team is here for you.
For a more detailed look at TripLog notifications, please read our in-depth help center article. To give them a try yourself, click here: https://www.triplogmileage.com/web/post/index
As always, thank you for using TripLog!